Ishpatina Ridge Weekend Trip
Weekend of 01-OCT-2011
A few members of my local group and I have decided to hit up Ishpatina Ridge this fall. Its claim to fame is being Ontario's highest point, though it ranks fairly low on the difficulty scale. Pretty much anyone can make it out to this, and I see it as a good excuse to bushwhack.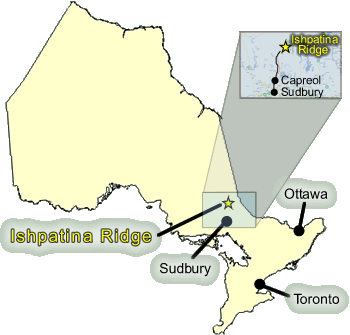 Anyone want to come with?
Some resources:
Wikipedia link...
http://en.wikipedia.org/wiki/Ishpatina_Ridge
Great trip report...
http://alavigne.net/Outdoors/ImageGallery/2006/06-03-IshpatinaRidge/index.jsp
We'll be using the alavigne route, posted below, so you can study the maps they have provided.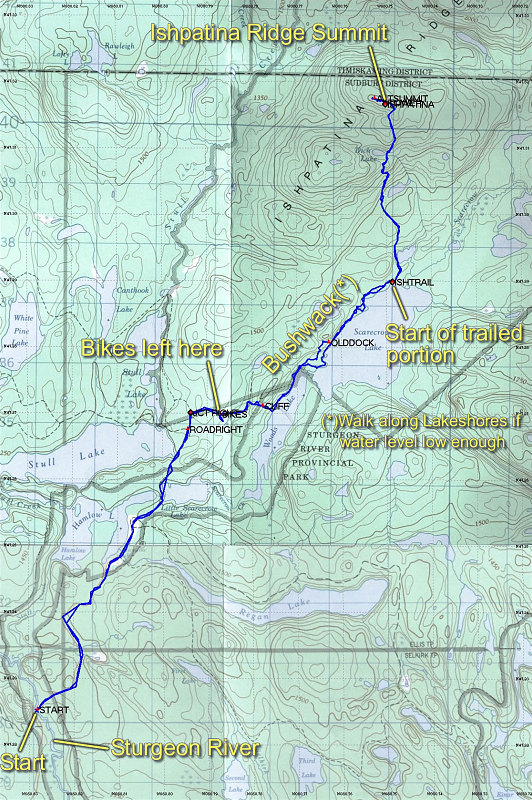 Interactive map:
http://alavigne.net/Miscellaneous/google_map_popup_track.jsp?ref=Ishpatina%20By%20Land&bd=Outdoors/ImageGallery/2006/06-03-IshpatinaRidge&id=PictureDataMain&iza=-1&iz=-1&dmt=hyb
Think of it as a free workshop to practice all those bush skills you've been neglecting.
Tentative Itinerary:
Keep in mind that this will run Sat-Sun (not including the Friday liaison) in Late September or Early October. When we nail down a date it will be posted here.
Early Liaison: Friday evening, we'll meet up in Sudbury or Capreol to do a quick overnight camp and final gear check.
Liaison & Step-Off: Saturday Morning, at the Sturgeon River crossing (see maps and alavigne trip report for details). We gather, do a head count, and cross the river.
Arrival at Summit: Saturday Mid-Afternoon, we'll setup camp shortly thereafter.
Return Leg: Sunday Morning
Arrival at Liaison Point: Sunday Mid-Afternoon
Updated Details:
- Ishpatina Ridge itself is located 80km NNE of Sudbury, making it accessible for anyone with a free weekend, a good pair of hiking shoes, and a vehicle.
- Due to its relative remote location and the labyrinth of logging roads to initially navigate, we will liaise in nearby Capreol before proceeding in a convoy.
- Normal road-going vehicles can access the first section of logging roads on this trip without issue, but only 4x4 units with clearance can ford the Sturgeon River safely; we will be parking all vehicles at the Sturgeon River crossing and proceeding on foot from that point.
- The Sturgeon River, at the crossing, has a depth of above knee height; she's a Class I so you can safely walk across.
- There is no cell reception and its a few hours to walk out - safe, mature behavior is paramount. If you're a jackass that likes to horse around, do not come.
- I will be notifying local authorities of our movements in the area and there will be a number of non-attendees that know exactly where we will be going. I advise you do the same, it's just smart.
- On an overall difficulty scale of 1 to 5, this trip ranks as a 1. This is the perfect opportunity for those who lack experience to cut their teeth on a real hike and camp expedition, but it's also good for the rest of us who are looking for a more relaxed, casual trip.
Recommended Gear
You only have to pack for an overnighter, and keep in mind that you have to lug everything in and out - so pack light, and pack smart!
- 3-day pack or better
- bivy bag OR lightweight tent
- autumn sleeping bag
- quality hiking shoes
- water shoes/sandals (you will be crossing several bodies of water)
- goretex jacket and fleece liner
- dry change of clothes
- fire-starting implement & backups
- 6L+ of water
- metal receptacle for boiling water (there's water everywhere there) OR filtration system OR purification tablets (or all of the above, if you're so inclined)
- food, enough for the weekend for yourself (no one will be lugging coolers through the woods, so pack smartly)
- first aid kit
- toilet paper
- compass
- detailed topographic map of the area
- rope
- multitool
- flashlight & extra batteries
- a whistle
Bring a camera, there's lots of wildlife and thousands of hectares of virgin forest!
One more important thing: I am not responsible for you! If you come out, you do so as an adult. I WILL provide all information, answer all questions, and provide as much assistance throughout this entire process (up to and including the weekend itself), but that does *not* make me your babysitter.
Last edited by Wilson on Mon Aug 29, 2011 3:17 pm; edited 11 times in total
_________________
Staff - civiliansheepdog.com
Can you detail some of what this hike will be about?

Overnight?

Distance?

Couldn't find the maps.

I could be interested but don't want to overstep my limits TOO much.
_________________
Admin - civiliansheepdog.com
Member of: CPC - CGN - ASC
Original post updated with more information, tentative itinerary, details, tips, and my mini-disclaimer.

Watch the original post for updates as this unfolds. I'm thinking late September - Early October for our window.


This is an easy hike. Even the elderly could handle this (and many make an annual trip out of it). It can be done in a day, but to make it more worthwhile for everyone it's being stretched out over the weekend. Everyone is going to learn a LOT on this one. I get to play guide and instructor, and everyone gets time in the bush, breaking in those hiking shoes, packs, knives, tents, and sleeping bags.
_________________
Staff - civiliansheepdog.com
Where might I be able to find a topo-map?

I literally have no idea where to find anything past a google-map.
_________________
Admin - civiliansheepdog.com
Member of: CPC - CGN - ASC
I could definitely be interested in doing this - it's just a matter of hustling some money to better equip myself for the hike.

For example, smallest tent i have is a Tarn 3 - 3 man tent.

I'm gonna start getting on the go here - and because it's a long trip, I'll be more than happy to set up a carpool if I can make it happen.
_________________
Admin - civiliansheepdog.com
Member of: CPC - CGN - ASC
You won't need anything crazy like a four season tent for this. Hell, a bivouac bag would probably fit the bill, since you already have a tent.

By the way, those who wish to attend are welcome to bring extra people, spouses included.
_________________
Staff - civiliansheepdog.com
Yeah - at this point it's about making sure time and money are available.

My work tends to heat up in the fall and gets crazy in the winter. Family business - can't just say "I'm busy"... you know?
_________________
Admin - civiliansheepdog.com
Member of: CPC - CGN - ASC
A buddy of mine went out with me and confirmed the route (the driving portion). Any road vehicle can make it down the smoothly graded logging roads without issue. In fact, due to the very low water levels, the Strugeon River can be crossed by a family sedan! Sounds crazy, I know, but there's only about 3" of water and the bottom of the river is the same material as a road - as this is an actual ford site.
Halfway across the river - was able to safely stop without sinking or being washed down stream for a photo op!
Across and no worse for wear!
In the summer this would be impossible, as the river gets above waist deep and has a fast current, but in the fall there's really no water moving at all (and no chance of a surge, either).
Join us in paradise!
_________________
Staff - civiliansheepdog.com
This hike is taking place on the upcoming weekend, 1st and 2nd of October. CSD, CGN, and ASC users are all welcome to attend.

Shoot me a PM on any of the boards for details.
_________________
Staff - civiliansheepdog.com

---
Permissions in this forum:
You
cannot
reply to topics in this forum